My name is Remy Faint. I am an emerging artist completing a Bachelor of Fine Arts (Honours) at UNSW Art and Design. My practice has developed from material investigations in painting, that aims to position abstraction as an autonomous device within the frameworks of both Western and non-Western thinking. This involves the use of both traditional and unconventional mediums as well as forms related to my Chinese heritage. My approach also adopts embodied, sculptural methods where painting surfaces and supports act as three-dimensional screening devices. This allows audiences to view the works in multiple and fluid ways. Additionally the modular objects encourage viewers to realise their shifting and alternating positions, allowing them to consider their own perspective and how it can change. In my practice I am aiming to continue to investigate ways that these objects can be significant tools in communicating an unfixed and imagined approach to painting, that stems from a variety of cultural narratives and sources within abstraction.
UNSOUND BANNERS (GREY),
continues my investigation into abstraction, painting object hood and the colour 'grey' as a neutral, or in-between space. The work challenges definitions of hierarchy in materials by juxtaposing rigid structures and loose canvas to blur distinctions between painting surfaces and supports. This contrast in materiality is also explored within abstract compositions where evidence of painterly folds and texture are simultaneously re-established between flat planes and draped canvas. The modular wooden frame mirrors the form of the folding screen, that references the objects transcultural depiction throughout history from Asia to the West as an artistic and spatial device. This also enables an embodied approach to abstraction, where the formal properties of the materials become a significant gestural tool. The title suggests the work's unfixed, fragility as an object, while also alluding to associative properties of a flag, placard or barrier. The ability to view the work from multiple angles and ambiguous distinctions between front and back, position the audience as integral to the viewing experience. This aims to enable viewers to reflect upon their own perspectives, positions and associations in relation to both material primacy and structures in space.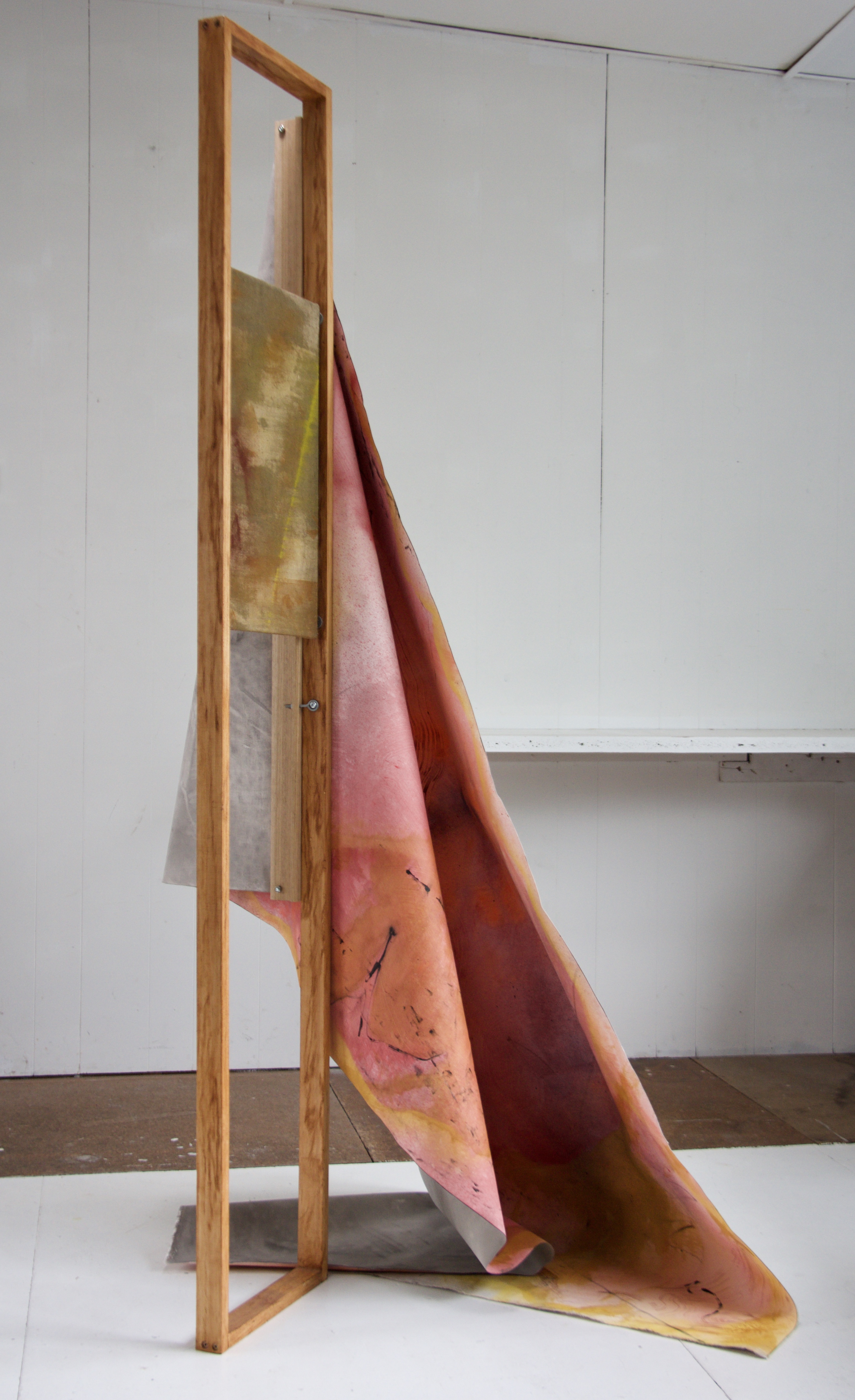 Remy Faint, 'Unsound Banners (Grey)', foldable wood screen, acrylic, aerosol and pigment on hessian and canvas, dimensions vary approx. 175cm x 70cm, 2021