2009.01-2009.10 Kudos Exhibitions
01. An Artistic Investigation and Subversion of Scopophilia

Alex Kiers, Dara Gill, and Daniel Kirkwood

January 27- February 7

Opening: 5-7.30pm 27 January

The Artists have each become a Panopticon, an investigation into the love of looking.
02. Flight of Fancy

Curated by Bronwyn Bailey-Charteris and Marcel Cooper

19 February- 14 February

Opening: 5-7 PM 10 February

Flee into new fangled reality of immersive live performance at the opening of The Glorious Undead Festival. Jokers beware, carnivale be welcome, adorn yourself! Expect endurance, random interval and continual performance throughout the evening and the week long exhibition.
03. Irreversible Encounters and the Point of No Return

Katherine Olston

17 February- 21 February

Opening: 5-7 PM 17 February

Through exploring the position of the Westerner, or 'farang' as Other in Thailand, the exhibition provides an insight into one of those irreversible experiences in our lives where core perceptions of Self, and the way we inhabit the world are fundamentally challenged, forcing us into previously unknown territory, to a place from which we can never return.
04. Dark Hall

Curated by Bronwyn Bailey-Charteris and Marcel Cooper.

24 February- 28 February

Opening: 5- 7 PM 24 February

The audience are quickly evaporated in the great Dark Hall. Skip a beat and replace a step in our forest of digital glow. White horses bucking, sounds unheard, surprises behind every door. Kudos Gallery transforms for the final exhibition of The Glorious Undead.
05. Out of the Frying Pan...

Keith Chidzey

3 March- 7 March

Opening: 5-7 PM 3 March

Out of the Frying Pan..traces much of the pyritic journey Chidzey has been undertaking over the years, culminating in his current research into conflagration and the processes of the life and aesthetics of fire.
06. Articulating the Grid

Simon Taylor

10 March- 14 March

Opening: 5-7 PM 10 March

Simon Taylor's MFA exhibition details the development of his encoded dripmark paintings informed by his Environmental Science degree and the Australian landscape.


07. 5th Constructive Cannibalism & Structural Studies

Alex Greene

24 March- 4 April

Opening: 5-7.30 PM 24 March

Open Studio: Wednesday 18 March- Saturday 21 March


COFA graduate Alex Greene continues his sculptural exploration of space and the built environment through his new installation at Kudos Gallery. This exhibit will also be accompanied by recent works on paper that further explore the concepts embedded in his current body of work.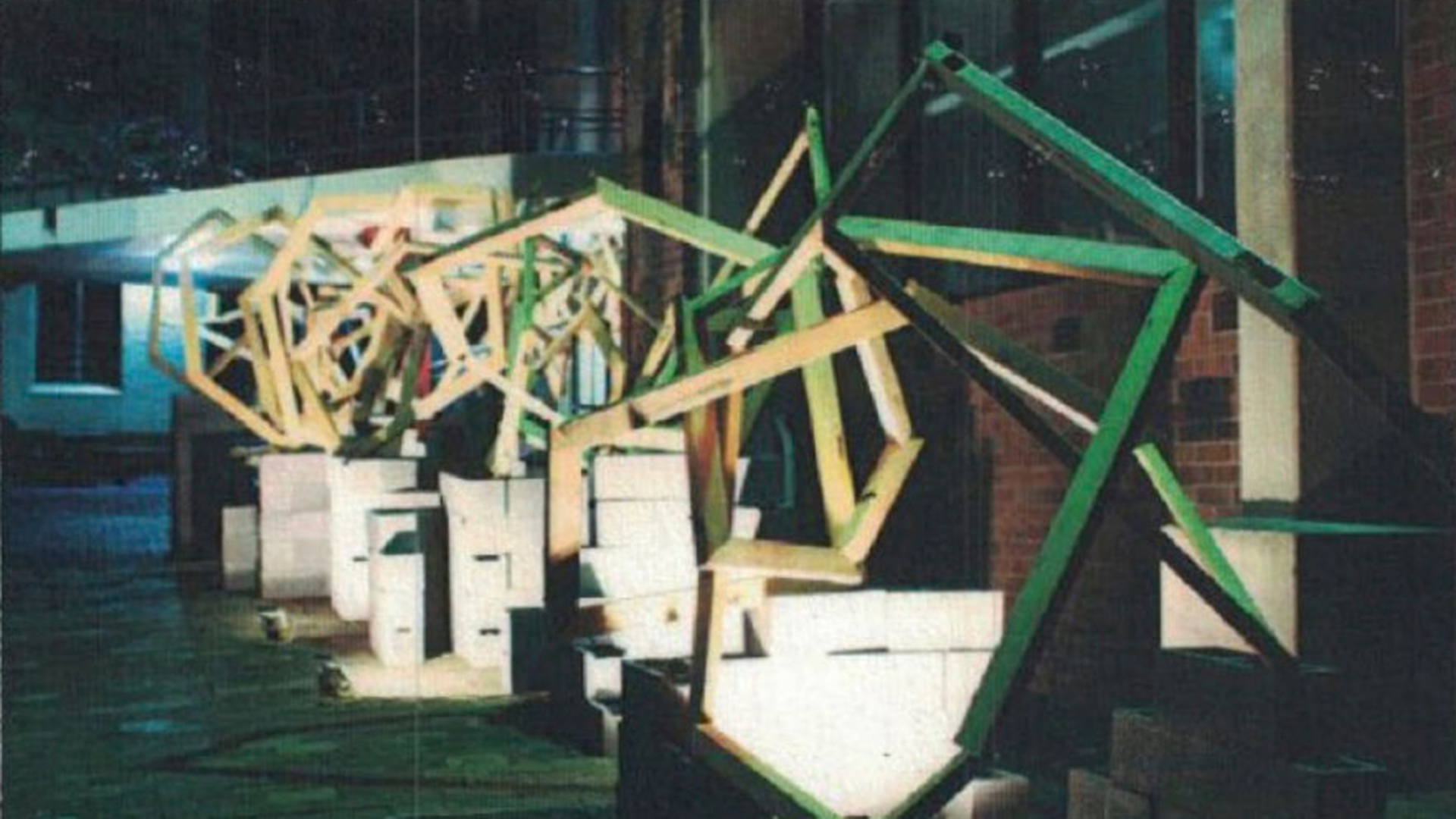 08. Becoming

Curated by Megan Russell

31 March- 11 April

Opening: 5- 7.30 PM 31 March

Witness the exciting new talent of third year COFA painting and drawing students, as they approach their final year of study. This show provides an interesting insight into how the medium can be represented, reinvented and explored by students seeking their own artistic individuality.
09. Do You Remember Patrida (Homeland)

Sue Soliman & Athena Xenakis

21 April - 2 May

Opening 5-7.30 PM 21 April

An exhibition conceived as a result of a friendship between two artists and their deep love for their "Patrida" (homeland). Sue and Athena share a contemporary approach to their art and their paintings are inspire by their regular trips to Greece.
10. Cover Me: Animal Defenses, Armour and the Amulet

Kamila Shepherd

5 May- 7 May

Opening: 5-7.30 PM 5 May

An exhibition of jewellery objects which interrogate the metaphysical protection provided by the amulet, and showcase the synthesis of animal defences and instinct into a new visual vocabulary of protection.