Trepidation

Sandra Gunniga Thomson, Melissa Kahl, Sarah Catania

Opening Night Wednesday 5th February 2020, 5-8 PM

Exhibition continues 5.02.2020-22.02.2020

Space One

Through Trepidation, artists Sarah Catania, Melissa Kahl, and Sandra Gunniga Thomson explore the cloud of unease that has settled over them as they confront ambiguous futures. Thomson, whose practice concerns a textural realisation of organic and visceral forms through traditional drawing techniques, engages with the idea of an impractical and unhealthy obsession with the unknown. The subjects of her works are indulgent and submit to being enveloped by the surrounding environment they must inhabit. Kahl, through her imagery of tide, flow and gravity, explores 'the moment' as akin to the push and pull of water. Her works present a dichotomy between action and passivity—obsession and indifference— that entices oneself into a state of indecisiveness and apprehension to inhibit progression towards a future. Catania explores the nature of memory and its effect on the future. As what individuals remember from the past influences their current and future life, what happens if those memories are skewed towards the negative or contain trauma? Her works sift through her own sense of impending doom stemming from past memories and the fear of her past repeating itself in the future.


Artists

Melissa Kahl is an artist who explores feminine and whimsical imagery through a visceral approach to her practice. Working preferably in watercolour, Kahl intends on creating artwork that is vibrant, visual and emotionally engaging.

Sandra Gunniga Thomson is a third-year Media Arts student, specialising in drawing and animation. She enjoys illustrating the surreal - moments that can be equally grotesque as they are endearing.

Sarah Catania is a Fine Arts student studying drawing and printmaking. Catania draws on her own life experiences to create works that engage with the psychological struggles she encounters.

Trepidation Room Sheet
(opens in new window)
Body Language
Sian Kelly

Exhibition Opening February 5th, 6 PM
Exhibition Continues 5th February- 22nd February 2020


The progression of the concept of gender in Western philosophy and pedagogy has, over recent decades, reached a point of cultural understanding that sees it increasingly liberated from the restraints of biological sex. However, the body is a site in Western art that is historically riddled with corporeal symbolism pertaining to a specifically binary model of gender.

How can one present trans/non-binary bodies to an audience that leans upon a history of binary gender representation, and achieve a readability that promotes gender-queer discourse? How can arts practices push up against spectacularity and gain autonomy?

It is in the space between embodiment and legibility that Body Language is situated. The result of- and extension from- my 2019 Honours body of work, Body Language draws upon my own experience of bodily reception and misgendering as a non-binary artist. It manifests itself through the lens of expanded drawing, as a performance, sculpture and installation work that interrogates non-binary embodiment, abstraction as a method of queering the body, and the body's agency as both a site and medium to discuss queer theory and trans politics.

Body Language Room Sheet (opens in new window)



Epigenetic Maternal Landscapes
Clare Nicholson

Opening February 25th, 6 PM
Exhibition Continues 26 February- 14 March

Epigenetic Maternal Landscapes comprises the remaking of iconic historical obstetric and developmental models and illustrations. Using traditional anatomical artmaking skills, but non-traditional materials such as concrete, ballistics gel, silver-plated bronze, pastillage, aluminium, resin and earthenware, each speculative model is installed on a conceptual plinth. Together, these link exterior environmental influences with maternal–foetal body alteration to (re)conceptualise epigenetic entanglements. Epigenetics understands body–environment relations as interdependent and permeable, resulting in transmissible offspring adversity. Increasingly, responsibility is placed on individual mothers to control aetiological environmental influences, with denigrating epigenetic discourse and visual representation appearing within clinical texts and across popular media. A vestibule displays today's crudely mass-produced, subjugating obstetric and developmental models. Conveying the medical instrumentalisation of women's reproductive bodies and gestation, they are discordant with maternal subjectivity. In contrast, Epigenetic Maternal Landscapes disrupts these outmoded medico-scientific artefacts, to animate the contemporary agential 'mattering' effects of maternal–foetal bodies instead. Suggesting lived maternal experiences, the sculptural series positions female reproductive biology within a space that carefully navigates the epigenetic materialisation of whole-world problems—beyond the control of individual mothers. Epigenetic Maternal Landscapes brings a new anatomical visuality to medical models to critique the biosocial production and reproduction of bodies.

Epigenetic Maternal Landscapes Room Sheet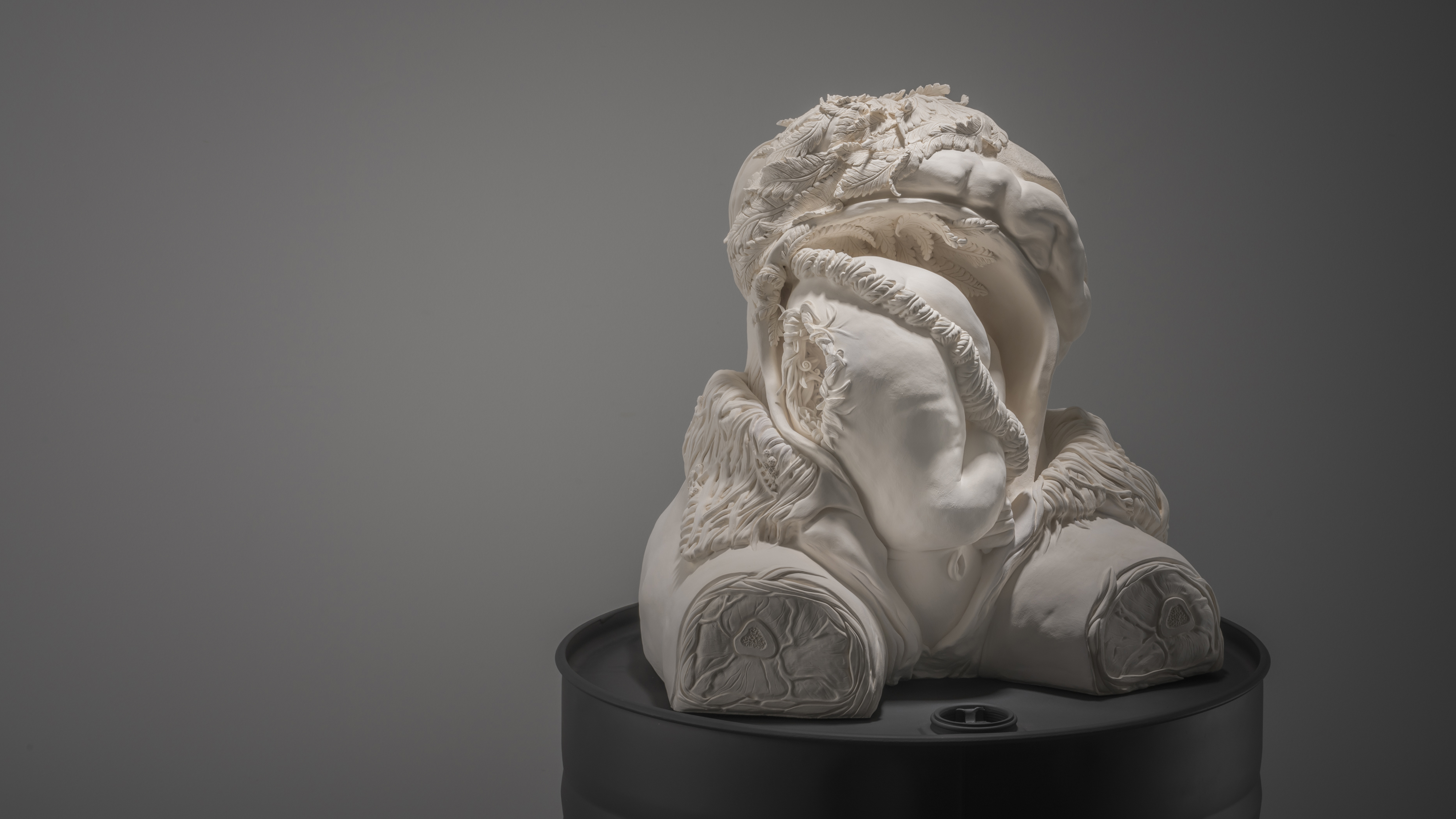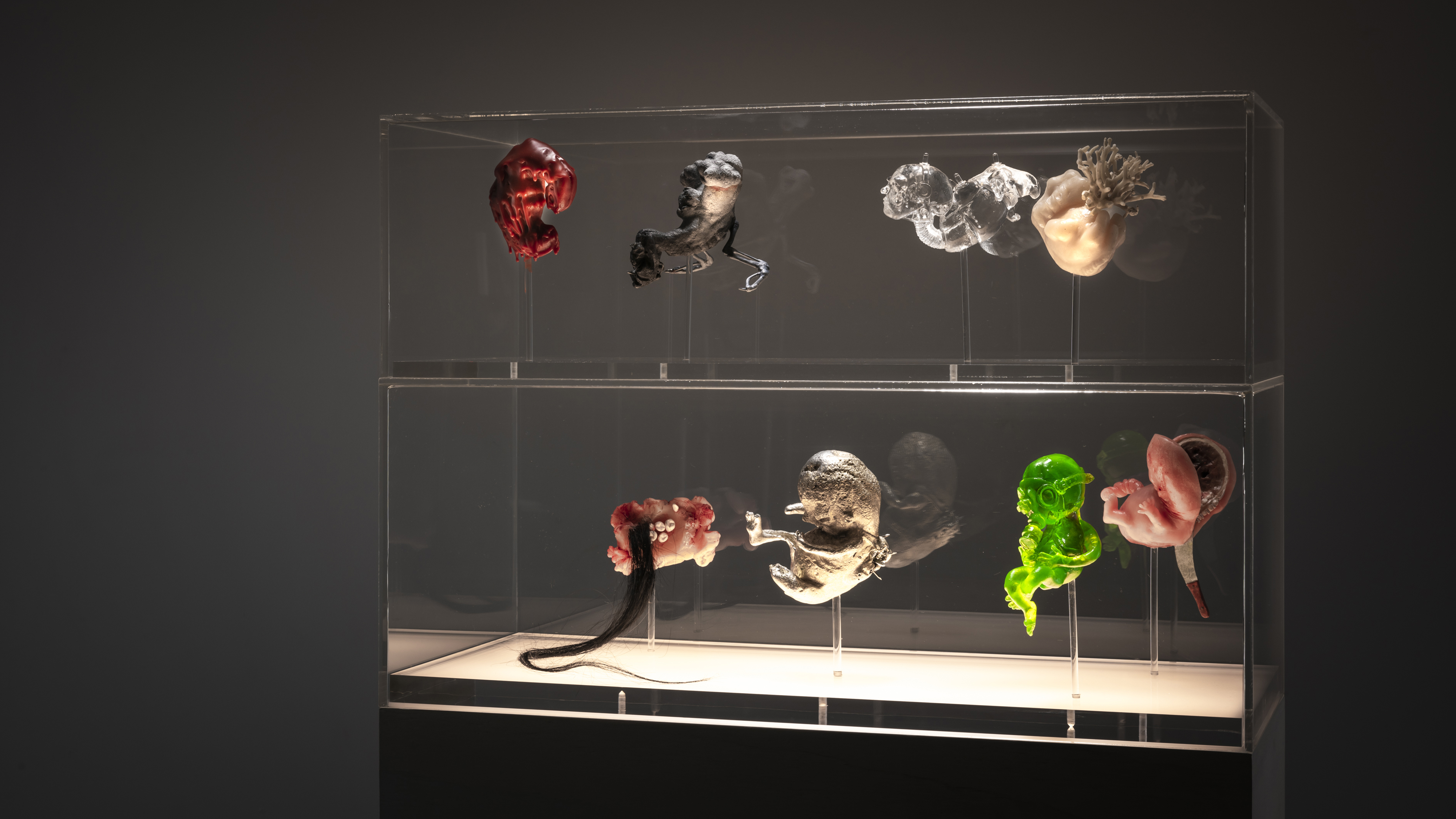 My Brain But Not My Brain
Annabel Scanlen, Annie Areum Shin, Fei Gao, Jessie Nok Wai Hui, Jodie Sim, Karan Singh Shekhawat, Natalie Quan Yau Tso

Exhibition Opening Thursday July 30, 6 PM (via Facebook Livestream)
Exhibition Continues July 30th- August 15th 2020

Emotions engendered by the subconscious intertwine our waking and dreaming lives. Shekhawat's paintings are layered flashbacks of nightmares that illustrate the perpetration of fear from day to dreams and from dreams to light. Meanwhile, the inescapable state of 'self' against emotions is mirrored in Hui's intuitive ink drawings of cloudscapes. The clouds, as the subconscious, cycle on its own emotional states, while the character Hui, as the reaction, is constantly attempting to shape its unruly mass. The series articulates a narrative of the changing yet patterned subconscious.

Beyond emotions, the subconscious undermines decision making. Scanlen's nonfunctional sculptures challenge the dualism between humans and Things. She tests the notion of utility in relation to Thing by collaborating with it, enquiring human's disregard for Things' 'hidden' brains. The prioritisation of the 'hidden' brain is echoed in Shin's Qualia Series. She utilises an equation-like manner to collage her paintings that realise and translate the qualitative biases that limit her visual window. The aesthetic norms and preferences of her marks are alien and autonomic montages of the visual world by her subconscious.

The subconscious not only builds our present identities but conjures the past identities that are lost. Tso's video performance manifests the loss of her mother tongue as she escapes the facemask and chews on a new skin. She laments the trauma weighing on her relationship with her mother, mother tongue and motherland. In symmetry, Gao evokes the childhood yearning for his father in Is Dad Still Not Back? As one rolls the ball between wooden words, time is passed to endure the absence of a loved one. This time is stretched and embedded in Sim's Mending of Flesh. By inducing mnemonic qualities of mourning, the absence and presence of grief and loss that overpowers our subconscious begins healing.

Artists




Annabel Scanlen She / Her

Annabel Scanlen is a Sydney based artist whose practice involves extensive experimentation with tactile media. Scanlen's process often begins on paper, through sketching and illustration, then expands to three dimensional forms, through use of textile, cement, plaster and clay. This can be seen through her sculptural series Thing. Scanlen's theoretical practice interrogates notions of Thing Power, taking specific inspiration from Jane Bennett's approach to Thing and its value.

Follow Annabel on Instagram.

Image: Annabel Scanlen, Assembly of Things, 2020, cement and plaster sculptures, 7x5x5 cm. & 6x5x5cm.
Annie Areum Shin (She / her)

Annie Areum Shin is a Sydney based Korean-Australian artist whose practice employs an 'art for my sake' approach to realise and elucidate the psychological processes and frameworks that underlie her aesthetical choices. Her focus on material exploration, abstraction and collage across painting, sculpture and installation allow mimicry of her mental space and the dialogues that unfold within.
Shin's artmaking is a platform of escape from the influx of information, reality, demand for sociopolitical themes and identity exploration in art. Instead, she turns to inward queries of angst and internalisations, the failures and successes of applied psychology and fragments of the self that were birthed from them.
Website.
Follow Annie on Instagram.
Image: Annie Areum Shin, Add-ons in waiting, 'Qualia' Series, 2019, Mixed media on canvas, 100x70cm.
Jessie Nok Wai Hui (She / her)

Jessie Nok Wai Hui is currently a Honours student of Bachelor of Fine Arts in University of New South Wales, who is from Hong Kong. Hui's art practice is often an outlet for reflection on everyday events that she encounters. Discussing various topics such as slowness, social identity, emotions and subconsciousness, Hui's work in oil painting and ink drawing combines the imaginary and reality to offer a new perspective in viewing herself and her surroundings.
Website.

Follow Jessie on Instagram.
Image: Jessie Nok Wai Hui, Lunar Phases Series (Detail Shot), 2020, Ink on Paper, 56cm x 75cm.
Jodie Sim (She / her)

Jodie Sim is a Warrang (Sydney) based multidisciplinary artist engaged in documenting the diasporic experiences of familiarity and a sense of home. Her art practice often explores the complexities of cultural identity through material investigation of the mnemonic qualities of tactile sensory experiences. Jodie centralises her practice around methods of haptic repetition, intuitive making as response to sensory cues, and language and translation to produce works embodying the performed experiences of the diaspora.
Follow Jodie on Instagram.
Image: Jodie Sim, Mending of flesh, 2020, mixed media sculpture, dimensions varying.
Karan Singh Shekhawat (He/him)
Karan Singh Shekhawat's practice revolves around gender stereotypes, formed by society and how they impact one's identity. Growing up in India and living in Australia, Karan's work portrays the struggles of living in two worlds with opposing ideologies about one's sexuality, compelling him to live with dual personalities. Most of his works are constantly evolving self-portraits, combining various mediums to form installations with elements of painting, drawing, animation, and performance.
Website.
Follow Karan on Instagram.

Image: Karan Singh Shekhawat, Maa, 2020, Acrylics on canvas, 150X100cm.
Natalie Quan Yau Tso
(She / her)

Natalie Tso is a Hong Kong-Australian artist working on Cammeraygal land. She creates sculptures and self-performances to remember, examine and transmute trauma. Her creative process prioritises bodily memories and sensations. She works with hair, facemasks, threads and clay to translate bodily shock into materiality, rebodies these materials and reconfigures each performance's residues to complete sculptures.
Tso's art and love practice are two threads that coalesce to mend trauma in order to decolonise internally. This journey alchemises buried trauma to cultivate resilience against fear. Since encounters of pain between objects solidify the boundaries of our skin, art about suffering reshapes intimate and political relationships. Her narratives of injury become political warfare as her healing body, self and artworks redefine healing bodies around her.
Website.
Follow Natalie on instagra

m.
Image: Natalie Tso, Out-Coming, 2020, Video Performance [eating still].