Lockdown at Lilac City Studios: A Window Exhibition
Adele Walsh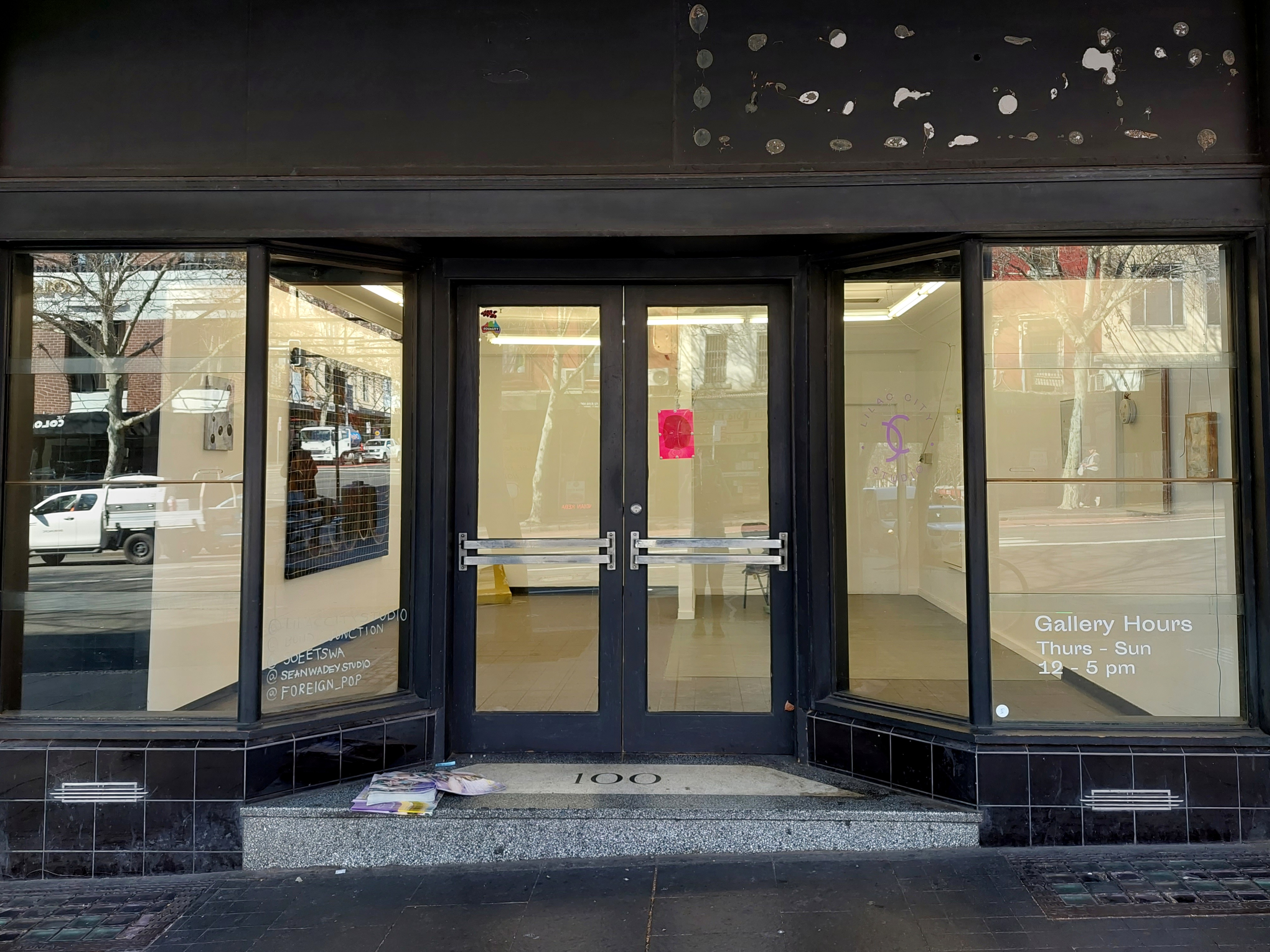 Figure 1 Street

A twenty-seven-year-old, who recently found themselves locked inside like the rest of Sydney, embarks on an hour of government mandated exercise around the streets of Darlinghurst. It's ten days into August and forty-four days into Sydney's second lockdown. She stops to look at an exhibition displayed in the windows of Lilac City Studio, an Artist run space on Oxford Street. The Exhibition is titled 'Lockdown' and the Instagram handles of the artists Brodie Cullen @soeetswa, Elisabeth Sulich @bondi_junction, Sean Wadey @seanwadeystudio and Cameron Skeleton @foreign_pop are written on the window in white marker. In the absence of a gallery assistant, @lilaccitystudio provides details: Lockdown is an "exhibition for the local public to see through the window whilst enjoying their local exercise… Exercise your mind as well as your body" the post says. Okay she says.

10:38 am In the windows she sees nothing but a collection of her own reflections.

A lonely lightbulb protrudes from the ceiling to illuminate a portrait suspended mid air. She morphs into a thing of the shadows, a thing with fangs.

10:42 am "Stay sane during lockdown" someone screeches from the front page of a Cadbury coloured pile near the door. The abandoned portrait flaps on the step; a flightless bird antagonised by the aerodynamics of a surgical mask passing by.

10:43 am Grease marks from the foreheads before are indexical. One spits on the window for dramatic effect. Humans are vile, 3 and counting.

10:48 am They peer in at a large piece of 70's coloured foam with a mottled body and an unblinking face - the only lingering guest among all the reflections, and begin to wonder if it is the furniture that has anthropomorphised, or if it is the creatures inside which have adopted the soft, sedentary characteristics of their surroundings.



Figure 5 foam creature. Photo by Adele Walsh

10:53 am 2 paintings. 1 big, 1 small. An unfortunate angle.

10:54 am 1 spider, 1 smoke detector, 3 frames hanging on the wall. 2 chairs, something wooden, 1 door.


11:00 Little grey shapes are arranged inside a frame like a missing set of jigsaw pieces falling into oblivion or, wherever it is, lost things go. Within this scene, they notice the shapes, the shadows, the way each iteration conveys a sense of motion in their unique arrangement and relation.

11:05 A second frame wraps around some soap. The woman, who has now escaped the reflections, feels immense satisfaction as she imagines

smooshing bar after bar of perfectly smooth soap

into a singular mass with the flat part of her palm.

11.07 The soap seem alive, dynamic. Colliding sides are full of ambition yet temporarily frozen- suspended in motion.

Suddenly, the woman is struck by the strangest sense of déjà vu.

Nothing more than a familiar feeling. Yet in remembering, it has already passed.

A long, slow moment is memorialised

inside the Oxford Street cube whose windows reflect

11.08 the stirring of a new world outside.

It's October and a few days have passed since the end of lockdown. Or a week, maybe two. Time became hard to keep track of since the reference was forgotten. Five walks and the windows of the studio are empty.

Lockdown gone as lockdown passes.

The limitations which inspired this exhibition also had some obvious disadvantages. The large reflective panes distorted the appearance of the artworks and accommodated only a few clear viewpoints. When I caught glimpses of myself in the reflection that day, I noticed my awareness twitching forward and back, until I gave up trying to separate the outside and the inside and let them merge into one. Looking at the studio's Instagram page and seeing the works flat and bright, uninterrupted by the shapes of Sydney's streets, I wonder if I got it all wrong. These are not the works I had experienced. What looked like falling puzzle pieces appear now to be rather rigid cut out objects with very little sense of motion. The paintings on the wall were an elusive mix of line and colour, collaged with the empty buses flying down Oxford Street behind me. Now they appear to be rather different works with an entirely new set of descriptions. Warped spheres are floating on a textured canvas as if their blackness was held in a membrane that might release them at any moment, sending them off in all directions. In another work, strokes of colour on take the form of several bicycles whose front wheels and baskets protrude from the depths of a black canvas their journey forward halted by a white grid that covers the whole picture plane. The soaps seem less creamy and the foam less soft.

The phenomenological differences between the physical exhibition and representations of it online speaks to some of the complexities surrounding exhibiting art and the ways in which an artwork is intricately connected to it's environment and the audience's personal experience. For me, Lockdown encapsulated many moods of 2021 and gave insight into what a creative practice looks like in a time when movements and materials are restricted to the artist's homes or the streets surrounding it.

Now that lockdown lives partly in an irretrievable past, I can't help but feel a little nostalgia for that little window exhibition I stumbled upon during an hour of exercise in 2021.